A calm sunny day out at Diefenbaker Park brought out some healthy competition for the Saskatoon Trilogy Challenge.
With 70+ registered, the course was full all day Saturday as players flung a new driver, mid-ranger and putter from Latitude 64, Dynamic Discs and Westside Discs, for the first time creating a level playing field.
Thanks to all the participants who made it out including the out-of-towners; and for those that couldn't make it, thanks for supporting the tournament and Saskatoon Disc Golf Inc.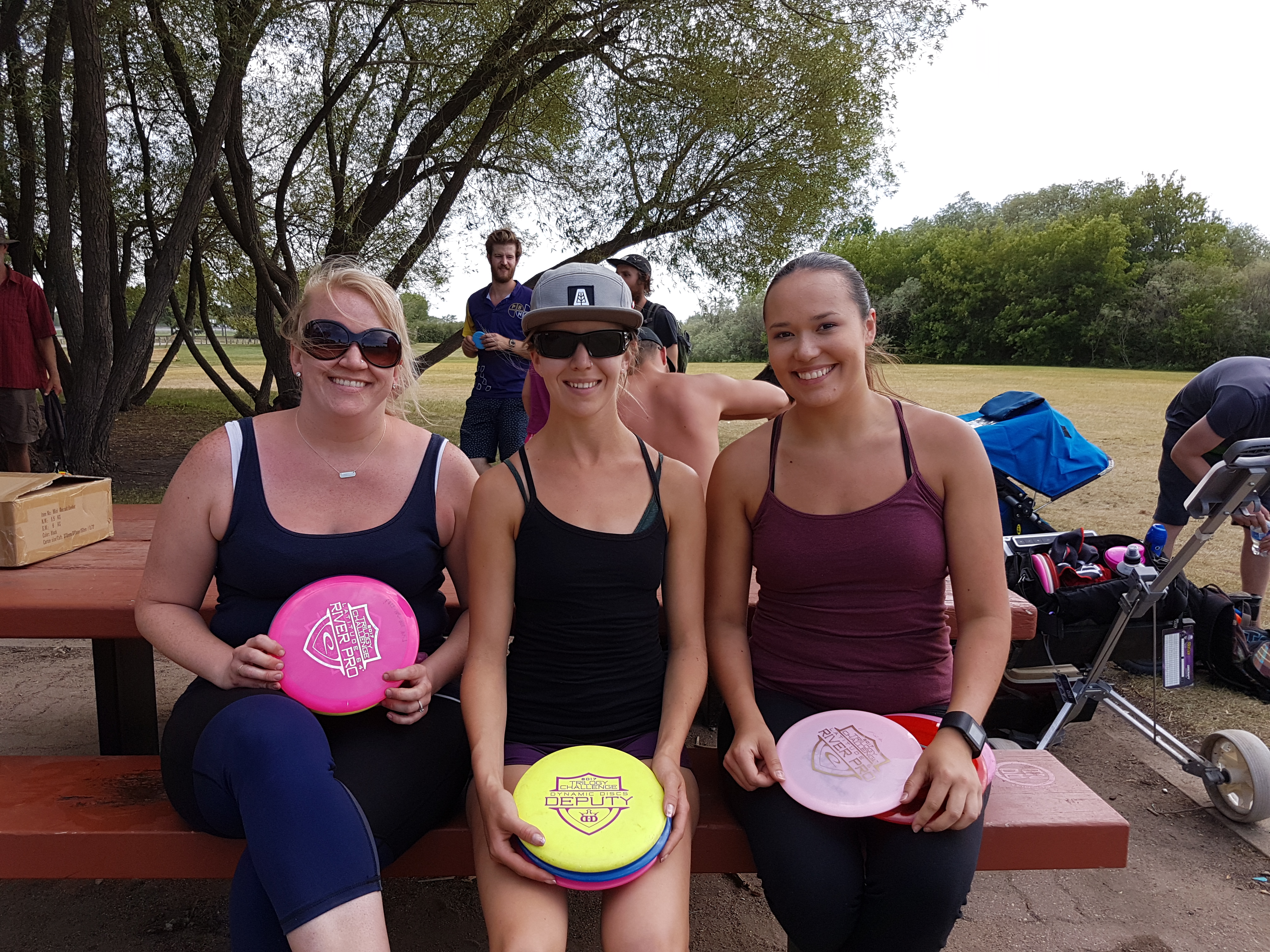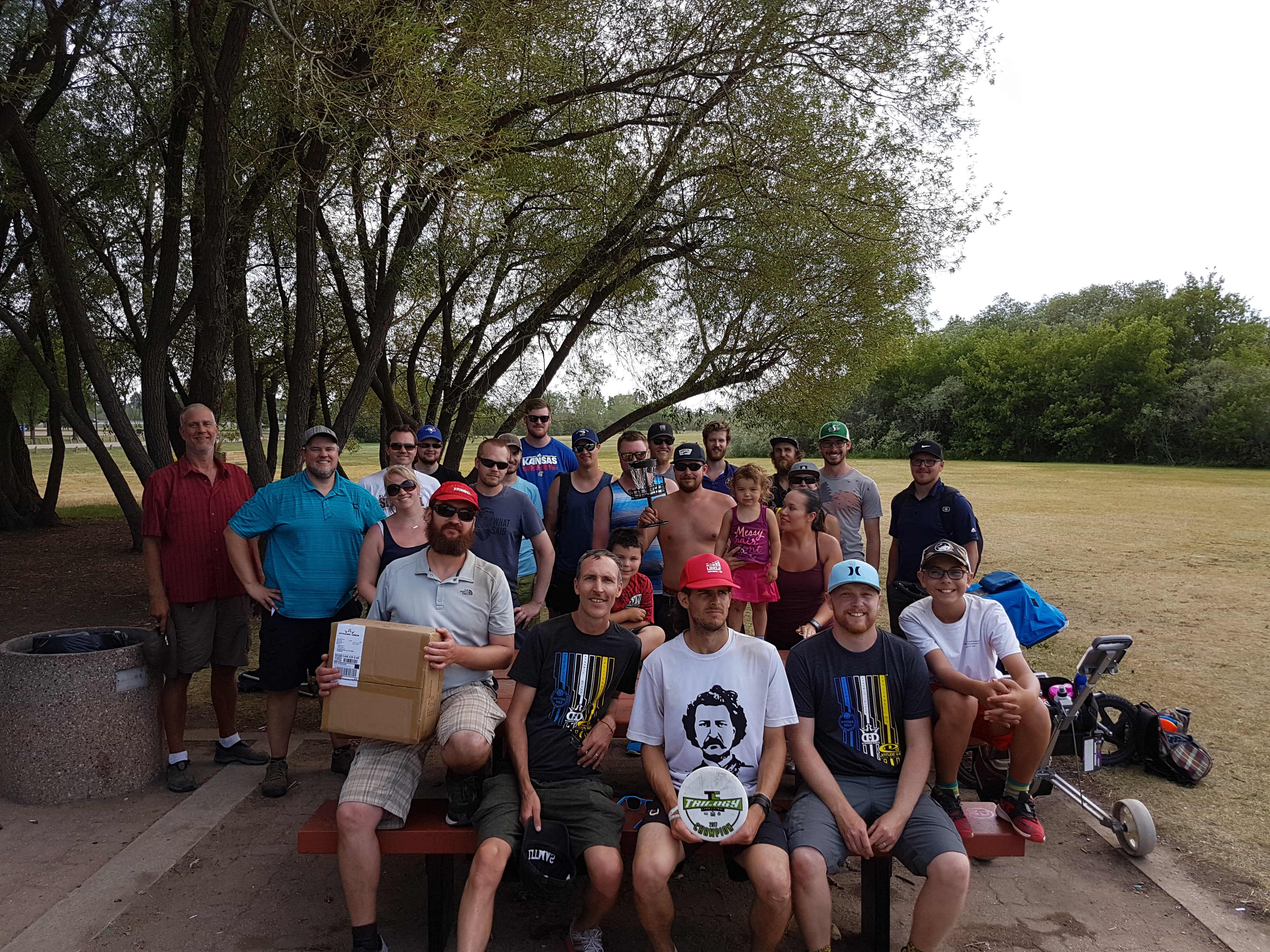 Final Standings
| | | | | |
| --- | --- | --- | --- | --- |
| Open Men's | | | | |
| Given Name | Surname | 1st round | 2nd round | Total Score |
| Marc | D'eon | -4 | -1 | -5 |
| Casey | Murray | -3 | -1 | -4 |
| Jordon | Kuzma | -1 | -2 | -3 |
| John | Kuzma | 0 | -2 | -2 |
| Kai | Hicks | -3 | 1 | -2 |
| Jonathan | O'leary | -1 | 0 | -1 |
| Adam | Zulkoskey | 1 | 2 | 3 |
| Cole | Digel | 0 | 3 | 3 |
| Ryan | Bryden | 3 | 1 | 4 |
| Dylan | Yablonski | 1 | 3 | 4 |
| Patrick | Block | 1 | 3 | 4 |
| Braydon | York | 4 | 1 | 5 |
| Andy | Palmer | 0 | 7 | 7 |
| Jason | Breckner | 5 | 3 | 8 |
| Greg | Rokosh | 4 | 4 | 8 |
| Tyler | Butz | 6 | 3 | 9 |
| James | Lawson | 2 | 7 | 9 |
| Lowell | Tilk | 9 | 1 | 10 |
| Michael | Dell | 4 | 6 | 10 |
| Cole | Breckner | 3 | 7 | 10 |
| Tyler | Boychuk | 0 | 10 | 10 |
| Dustin | Harrison | 5 | 6 | 11 |
| Kodi | Poettcker | 4 | 7 | 11 |
| Logan | Underwood | 7 | 9 | 16 |
| Darren | Breckner | 11 | 10 | 21 |
| James | Rowland | 8 | 13 | 21 |
| Cory | Sellers | 11 | 12 | 23 |
| Ryan | Patrick | 9 | 14 | 23 |
| Trevor | Van Deventer | 9 | 14 | 23 |
| Troy | Robinson | 10 | 18 | 28 |
| Mike | Schurko | 16 | 16 | 32 |
| James | Olbort | 19 | 22 | 41 |
| Ryan | Jones | 32 | 32 | 64 |
| | | | | |
| --- | --- | --- | --- | --- |
| Open Women's | | | | |
| Given Name | Surname | 1st round | 2nd round | Total Score |
| Kate | Morrison | 9 | 7 | 16 |
| Tiera | Cardinal | 16 | 21 | 37 |
| Lisa | Waloshin | 18 | 22 | 40 |
| Sarah | Srayko | 32 | 31 | 63 |
| | | | | |
| --- | --- | --- | --- | --- |
| Junior | | | | |
| Given Name | Surname | 1st round | 2nd round | Total Score |
| Chandler | O'leary | 25 | 22 | 47 |
| | | |
| --- | --- | --- |
| Amateur Men's | | |
| Given Name | Surname | 1 Round |
| Craig | Haker | -1 |
| Scott | Chapman | 0 |
| Andrew | Kudel | 5 |
| Curtis | Smeding | 6 |
| Kevin | Baribeau | 6 |
| Steve | Ustupski | 6 |
| Kyle | McIntosh | 7 |
| Michael | Kuley | 8 |
| Jason | Coutu | 9 |
| Taryn | Zacharias | 9 |
| Adrian | Teare | 10 |
| Eric | Farries | 11 |
| Jonathon | Daku | 11 |
| Tyrone | Okrainetz | 13 |
| Logan | Campbell | 14 |
| Brandon | Fell | 14 |
| Cameron | Baribeau | 14 |
| Curt | Bimson | 14 |
| Murray | Gordon | 16 |
| Aaron | Timpany | 16 |
| Eric | Pulvermacher | 17 |
| Caleb | Haight | 21 |