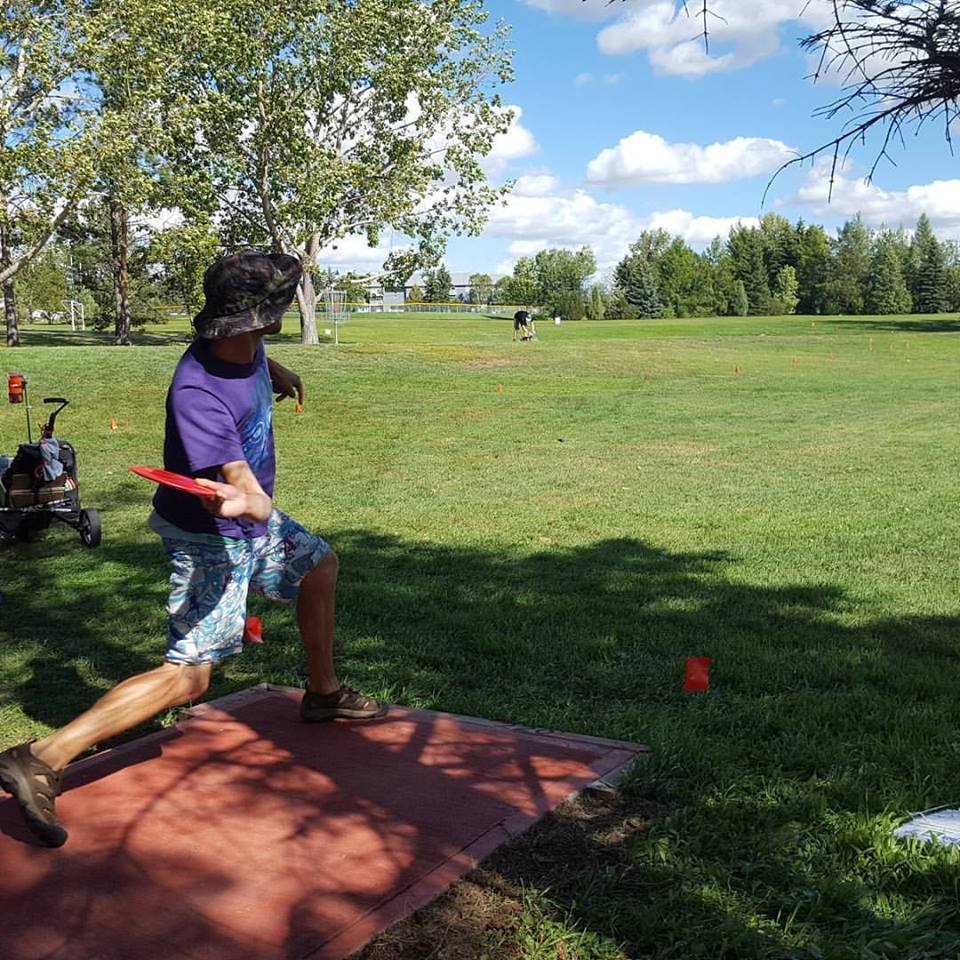 Over 50 disc golfers from across the province and beyond competed for the crown of provincial disc golf champion at Centennial Park in North Battleford, Sask., on August 19-20.
The tournament started off with two rounds of 18 on Saturday, followed by a round of 18 from pro tees and a Super 9 layout for the top 5 finishers in each division on Sunday.
Thanks to all of our sponsors and groups who donated prizes to make this championship an incredible success:  SIGA and The Gold Eagle Casino, GMR Electric Motors, The Disc Cellar, Daredevil Discs, TOBU discs, Escape Sports, Doug's Spoke & Sport, Splish Splash Car Wash, The Gold Eagle Lodge, Discovery Co-op, Rainbow Toyota, Kelly's Computer Works, Emco North Battleford, All-Out Graphics, Freedom Skate & Snow, Boston Pizza North Battleford, Subway, Super A Foods, Destination Battlefords, Awaken Salon & Spa & Daniel Martin with The Dawson Creek Disc Golf Club
Here are the full standings.
| | | | | | | |
| --- | --- | --- | --- | --- | --- | --- |
| Zena | Johnson | Female | Battleford | Amateur | FA1 | 1 |
| Kadie | Hozempa | Female | Regina | Amateur | FA1 | 2 |
| Becky | Musqua | Female | Melville | Amateur | FA1 | 3 |
| Nicole | Bouskill | Female | Saskatoon | Amateur | FA1 | 4 |
| Kim | Kessler | Female | North Battleford | Recreational | FA3 | 1 |
| Kristy | Bird | Female | North Battleford | Recreational | FA3 | 1 |
| Jenn | Farries | Female | Saskatoon | Recreational | FA3 | 3 |
| Taylor | Mountain | Male | Regina | Amateur | MA1 | 1 |
| Logan | Underwood | | | Amateur | MA1 | 2 |
| Francois | Biber | Male | Saskatoon | Amateur | MA1 | 3 |
| Matthew | Craddock | Male | Regina | Amateur | MA1 | 3 |
| Tim | Witoshynski | Male | St. Albert | Amateur | MA1 | 5 |
| Leland | Foley | Male | Regina | Recreational | MA1 | 6 |
| Joe | Lang | Male | Battleford | Amateur | MA1 | 7 |
| Branden | Demkiw | Male | North Battleford | Amateur | MA1 | 8 |
| Calvin | Perepeljuk | Male | North Battleford | Amateur | MA1 | 8 |
| Josh | Gregory | Male | Melville | Amateur | MA1 | 10 |
| Elias | Frank | Male | Cutknife | Amateur | MA1 | 11 |
| Eric | Farries | Male | Saskatoon | Amateur | MA1 | 11 |
| Steven | Roblin | | | | MA1 | 13 |
| James | Rowland | | | Amateur | MA1 | 14 |
| Coltin | Scott | | | Amateur | MA3 | 1 |
| Jayson | Stefanuik | | | | MA3 | 2 |
| Maarten | Van Assem | Male | North Battleford | Recreational | MA3 | 3 |
| Patrick | Streisel | Male | Saskatoon | Recreational | MA3 | 4 |
| Dave | Pringle | Male | Saskatoon | Pro | Masters | 2 |
| James | Lawson | Male | Saskatoon | Pro | Masters | 3 |
| Jason | Beckman | Male | Battleford | Amateur | Masters | 4 |
| John | Kuzma | | | | Masters | 1 |
| Ken | Chartier | Male | Battleford | Amateur | Masters | 5 |
| Murray | Gordon | Male | Watrous | Pro | Masters | 5 |
| Chandler | O'leary | Male | Saskatoon | Recreational | MJ1 | 1 |
| Rhys | Farries | Male | Saskatoon | Recreational | MJ1 | 2 |
| Jonathan | O'leary | Male | Saskatoon | Pro | MPO | 1 |
| Chris | Hoyt | Male | Regina | Pro | MPO | 2 |
| Chase | Samual | | | Pro | MPO | 3 |
| Corbin | Tindall | Male | Edmonton | Pro | MPO | 4 |
| Kai | Hicks | Male | Saskatoon | Pro | MPO | 5 |
| Andrew | Neufeldt | Male | Saskatoon | Pro | MPO | 6 |
| Duncan | Holness | Male | Broadview | Pro | MPO | 6 |
| Zach | Renwick | Male | Battleford | Pro | MPO | 6 |
| Tyler | Mackenzie | Male | Saskatoon | Pro | MPO | 9 |
| Daniel | Fortier | Male | Regina | Pro | MPO | 9 |
| Frank | Kessler | Male | North Battleford | Pro | MPO | 10 |
| Christopher | Mercer | | | Amateur | MPO | 11 |
| Trevor | Radchenko | Male | Battleford | Pro | MPO | 12 |
| Evan | Zimmer | Male | North Battleford | Pro | MPO | 13 |
| Noel | Aucoin | Male | North Battleford | Pro | MPO | 14 |
| Steven | Palmier | Male | Saskatoon | Pro | MPO | 15 |
| Bryan | Hodgins | Male | Battleford | Pro | MPO | 16 |
| Greg | Rokosh | Male | Saskatoon | Pro | MPO | 17 |
| Jordan | Kuzma | Male | Saskatoon | Pro | MPO | 18 |