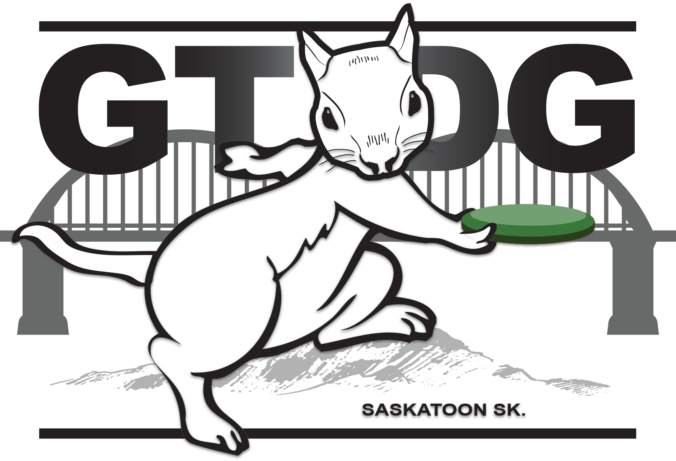 Gophertown League 2023
The Gophertown League is intended to be a place where players can come out to enjoy a fun, competitive round of disc golf and be part of a positive group environment.  The 2023 regular season will run from the beginning of May to the end of July with playoffs in August. Playoffs will be similar to the Disc Golf Pro Tour where players with lower points will have to play for a chance to move onto the next week of playoffs. The final week of playoffs will have the trophy presentation and awards handed out.
Cost/Prizing
Players must have a Saskatoon Disc Golf membership to participate in Gophertown League.
SDG Memberships are $30 and Gophertown League is $40.
There will be a Longest Make or Closest to the pin prize every week. Players are eligible to win once of each category. See Schedule for hole and category for prize.
Sign Up Here!
Meet time
Gophertown League is held every Thursday night at Diefenbaker park. Score will be kept on the U-disc app under the events tab. You can sign up for a free U-disc membership and it will allow you to keep score of a limited amount of rounds.
Full Schedule
End of Round/Scoring
PDGA rules are the governing rules for the Gophertown League.
Mandatories
Diefenbaker #8 must be played right of the power pole. (Intended to stay off #11″s fairway) Drop zone is just right of the power pole.
Diefenbaker #9 must be played right of the power pole. (intended to keep the tee pad of #10 safe) Drop zone is right of power pole.
Diefenbaker #11 must be played Right of the power pole and left of the 2nd pine tree on the right. (The tree's trunk is the mando line. Intended to stay off #8's fairway and to stay off the road) Drop zone is right of the power pole.
Diefenbaker #15 must be played right of the 1st light pole (Intended to play as a tunnel shot and not over the road) Drop zone is left of the light pole.
Diefenbaker #17 must be played between both trees directly in front of tee. (Intended to keep discs from being played over the path) Drop zone is between the two trees.
Reid #3 must be played right of the 2nd tree along the path. (Intended to keep discs from being played over the path) Drop zone is right of the tree.
Reid #12 must be played left of the furthest right tree of the cluster of trees in the fairway. (NO playing right into/over the fairway of hole #6) Drop zone is left of cluster of trees, beside small bush.
Out Of Bounds
Diefenbaker all roads are played as out of bounds. Boundary is determined by the outside edge of posts.
Diefenbaker #17 path along right side of fairway.
Diefenbaker #1, 15 and 18 parking lot adjacent to holes. Boundary is concrete edge.
Diefenbaker #1 (Hazard Area) "Swamp area" between Tee box and Basket. Play from lie and add 1 stroke penalty. Boundary when not painted is mowed grass line. If standing water in hazard then play 1 Meter from water on line of entry.
Reid all paths along fairways and greens.
Reid #4/13 ball field fence
Reid #14 and #15 fence along left of fairway
Reid #16 and 17 parking lot/road along left of fairway and greens. Boundary is grass line along pavement.
Conduct and Etiquette
We as members of Gophertown Disc Golf are public face of Saskatoon Disc Golf Inc. It is our goal as a group to present our sport in a positive and inspiring way to the public or others that may be using the park. Please one respectful of others while in the park and around people you don't know. First impressions are important. Profane language should be held in check when among the group as a whole and when around the public using the park for other reasons. If you have a trucker mouth, don't assume everyone is okay with you talking like that, especially if women or children are present. Drugs and alcohol are not allowed in the park or any other public areas. There are only a few garbage cans so don't leave anything man-made on the ground or anywhere in the park. If you pack it in, then pack it out, or at least carry it with you to the next available garbage can and dispose of it properly. Your attention and consideration in this matter is greatly appreciated. Just because you see someone else doing something wrong doesn't make it ok for you to follow suit. Lead by example to help enamor the reputation of our disc golf community so that growth of the sport and development of new courses can continue within the city.
As for course etiquette, the main things worth mentioning in order to keep everyone happy would be:
If you want to play music for your round, you must okay it with your group first. Do not assume that people are okay with music playing while they come out to enjoy nature and zone in on something they love to do. Plus a big part of the game is being a part of the conversations and getting to know the other members. Ask the other members in the group if they mind, if 1 person says that they would rather not listen to music while playing, then do not play any music. This goes for league play and tournaments both.
If the group behind you is on your heals and it looks like they will be constantly catching up to you – let them play through. It shows a courtesy and mindfulness of others that is in line with the image we wish to project to the public and other members of the disc golf community.
People in the park not disc golfing have the right of way, if they are oblivious as to what your intentions are, politely inform them so they know where they need to be to avoid being hit by a disc, and give them some time to get there.
Be respectful of the noise level when close to tee boxes and baskets so unnecessary distractions are avoided.
Other than that, have fun, meet new people, grow the community, and BANG CHAINS. Looking forward to seeing everyone out for another great season.
Questions or comments can be directed to Kris Roach @ k22roachman@gmail.com