This summer Saskatoon Disc Golf Inc. is bringing the Trilogy Challenge to Diefenbaker Park on July 8.
Registration
Open Division – $55 or $50 with an SDG Membership
Amateur/ Women's/Junior Division – $50 or $45 with an SDG Membership.
The Trilogy Challenge will be played over 2 rounds of 18 (1 round for Women's, Amateur and Junior) at Diefenbaker Park. Prizes will only be awarded to top players in the Open division.
SDG is also offering players a $5/round – winner takes all.
Player packs include 3 discs:
Lattitude 64 Driver – Opto River Pro
Westside Discs Mid-range – VIP Pine
Dynamic Discs Putter: Prime Deputy
Here's a Facebook Live review of the 3 discs.
Player packs also include a Trilogy T-Shirt, scorecard and pencil, and a Trilogy Challenge Mini.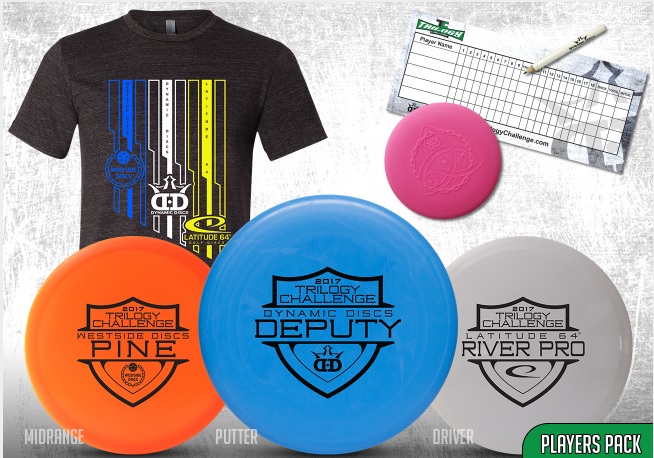 The idea behind the Trilogy Challenge is to grow the sport of disc golf by providing beginners with everything they need to play. The event started in 2014 with 273 events around the world with just over 10,000 players competing in these events.
In 2016, the Trilogy Challenge held 326 events in 11 different countries with just over 12,000 players competing in these events.
**Please check back for updates on how to register for this event. 
For more information on registration contact tournaments@saskatoondiscgolf.ca